Despite significant improvements to the human condition – better medicine, faster technology, and broader education – there remains a stark and persistent lag in outcomes for women and girls.
In areas where equity has been achieved, women and girls have been the driving force behind the most noteworthy solutions. Given the tools, girls could conquer the world. And Double Daring Camp for Girls provides those tools.
Established in 2016, the Double-Daring Camp for Girls (DDCG) is committed to the empowerment of girls.  We take our campers on a journey of self discovery through adventures in fine and performing arts, digital media and physical conquests including archery, rock-climbing, and acrobatics. Girls will bond and grow together by trying new things and meeting new people.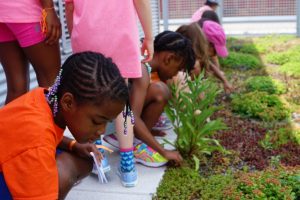 Every girl is the heroine of her own story. 
At the end of every week session, an expert in her field comes to camp to lead our girls in a master class workshop. By inviting our girls into their professional experiences, the masters empower our girls to pursue daring creative careers.
Girls need to own the intellectual, social and emotional capital required to address complex problems and to navigate spaces where their best interests don't always guide behavior or practice. Double Daring Camp for Girls is an environment for girls to grow their skill set AND the social and emotional courage to explore their passions and interests.
The lessons and self-esteem our Daring Girls cultivate at camp go beyond their week-long summer session. My staff and I saw the positive effects from DDCG immediately. 
The girls were so versatile in their interests and backgrounds and always down to try something new. We adopted a "girls will be girls" mantra, which was a highly effective way of making space for social-emotional growth as well as forgiveness and understanding. That was powerful! 
That said, I was surprised by the number of campers who had not previously spent any significant time in all-girl environments and how incredibly excited they were by the solidarity they found in our space. 
In its first summer, DDCG served 85 girls from areas of Brooklyn such as Park Slope, Bedford-Stuyvesant, Crown Heights, and Cobble Hill. For summer of 2017, those numbers have increased by 98%.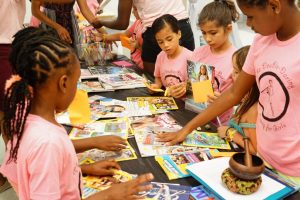 We have several discounted and complementary sessions of camp through our scholarship program. Although DDCG is within the affordable range, we understand not every family can afford the traditional summer camp rate, so we award about 20 scholarships each season.
For the future, Double Daring Camp for Girls will continue to expand. In addition to expanding our summer program to communities throughout Brooklyn, we are also aimed at an expansion into the after-school space. Our educational environments are complicated spaces where girls especially need tools that will help them to develop the social courage they need to overcome issues like bullying, aggression, and stereotyping. Schools are also deeply in need of mentoring and other supplemental exposures that can help girls broaden their perspectives. I have my sights set on in-school partnerships.
We give girls support and space to define and create their worlds. I think that's a pretty powerful resource!  
Crystal Bobb-Semple is the Founder/CEO of Plato Learning, the company behind the exuberant literary summer programs, Camp Half-Blood and the Double-Daring Camp for Girls. Plato Learning transforms classic stories into play-based explorations of History, conflict, morality and character development through a unique platform that helps kids develop social courage. Bobb-Semple has been a community leader for nearly two decades. In addition to owning and operating Brownstone Books (2000-2010) she has been active in developing businesses and civic organizations that have evolved the educational landscape, and bolstered efforts to bring industry to Brooklyn.