Kenya's leading actors, comedians, filmmakers, musicians, broadcast anchors and news reporters have joined the Wezesha Dada Inua Jamii campaign to petition the media to run 5 more minutes of positive news about women every week.
Celebrities are expected to drive at least 5,000 Kenyans to demand for more coverage of women's stories by local broadcasters in the I Have Signed the Petition and So Can You initiative. This celebrity driven push is part of the Wezesha Dada Inua Jamii campaign, a groundbreaking program that seeks to build media awareness around women's issues and shine a light on the fearless women and men who are bringing positive change to the lives of Kenya's women and girls.
By increasing coverage on women and girl's issues, Wezesha Dada seeks to spark conversation that urges policymakers, government leaders, and the population at-large to question harmful gender norms and practices that limit the socio-economic wellbeing of Kenya's women and girls and demand for change. The campaign lead, Rosa Kihara, explained, "We expect that when decision makers better understand the major challenges that limit Kenya's women and girls but also all the positive stories around people and programs that are trying to make that change, they will be encouraged to allocate resources and push for the necessary laws, policies, and programs that challenge deep-rooted social and cultural norms that continue to marginalize Kenya's women and girls and limit their contribution to the economic development of our country."
In 2014, the top five television stations in Kenya aired a total of 16 hours of news stories related to women and girls. That's just four percent of news airtime dedicated to talking about the challenges that impact women and girls and the amazing accomplishments Kenyans have made. These issues include: economic empowerment, education, gender-based violence, reproductive health, and maternal and child health.
As media becomes more accessible with the advancement of technology and ICTs, increased knowledge can help empower and educate people to help them fight against abuses such as domestic violence, harmful practices such as female genital cutting, and gender-based discrimination at home, in society or the workplace.
Everyday, fearless women and men work to bring positive change to the lives of Kenya's women and girls, and their voices must be highlighted. Greater representation of women's issues in the media will allow policymakers and government leaders to take action in allocating resources and pushing for the necessary laws, policies, and programs that help to create opportunities for Kenya's women and girls in this and the next generation.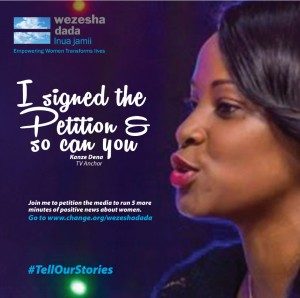 To date the campaign has had significant wins – including forging partnerships with 13 broadcasters running TV clips and 12 radio features, 30 NGOs who have shared their stories, over 50 Kenyan-based Social Good Campus Ambassadors, a social media fan base of almost 10K and an exciting campaign theme song by the famous Kenyan musician, Juliani.
Women's education and empowerment is key to Kenya's future success and development- and a positive representation of women in media will help get us there. Join us in asking Kenya's media to #TellOurStory (#WezeshaDada), by giving at least five more minutes of media coverage every week to discussing issues that impact Kenya's women and girls.
Add your name on the change.org/wezeshadada platform, and follow us on Facebook and Twitter @nawezeshadada and reading more about the campaign on wezeshadada.org